Gumball How-To Guides
How to Edit Scripts
Last updated 3/16/2022
There's two different ways to edit scripts for a show on your campaign dashboard!
Edit All Scripts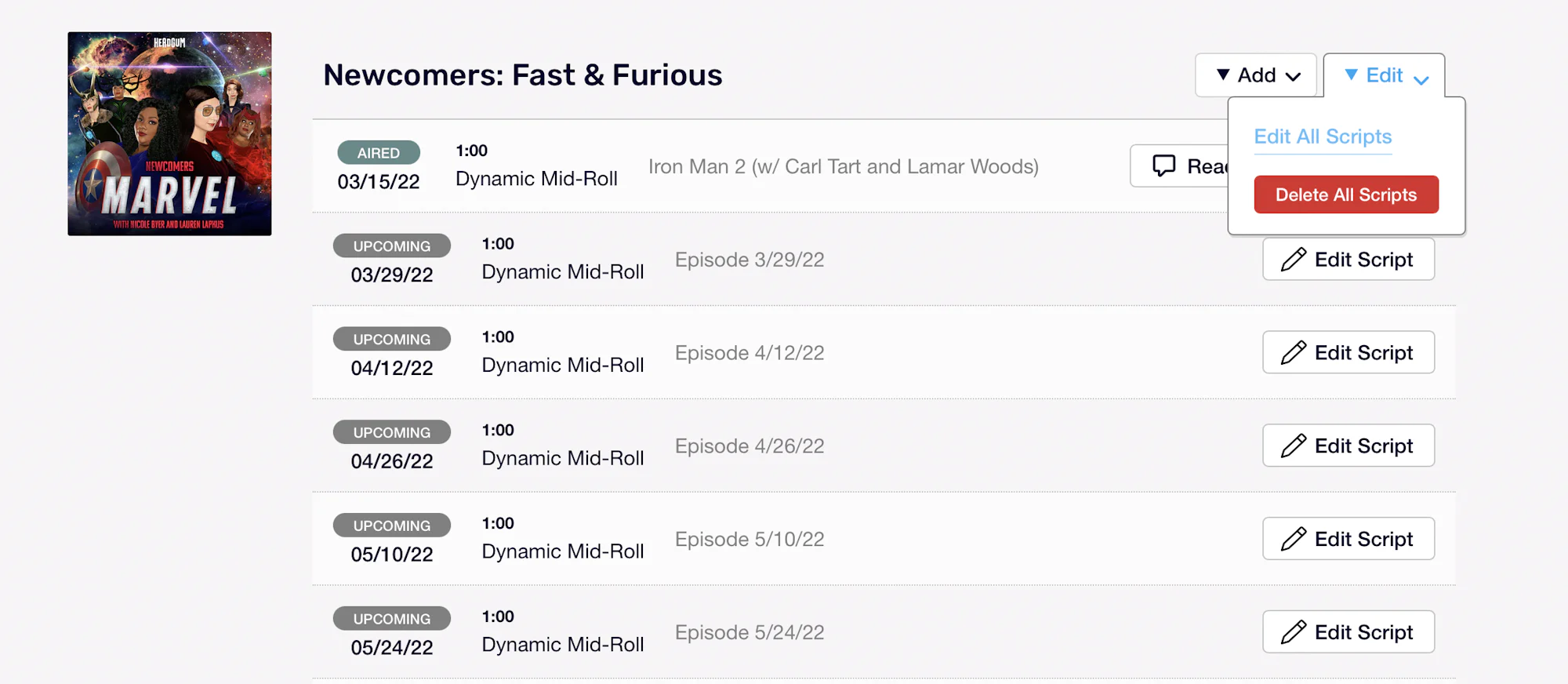 By hovering over the Edit button next to a specific show, you're given the options to Edit All Scripts or Delete All Scripts. Using these functions will make changes to every ad under a specific show.
Edit Individual Ads
Clicking the Edit button next to an individual ad will allow you to edit copy for just that ad, or allow you to edit copy for that ad and every subsequent ad. In the example above, if you were to click the Edit button next to Newcomers: Fast & Furious 3/29/22, you'd arrive at this page: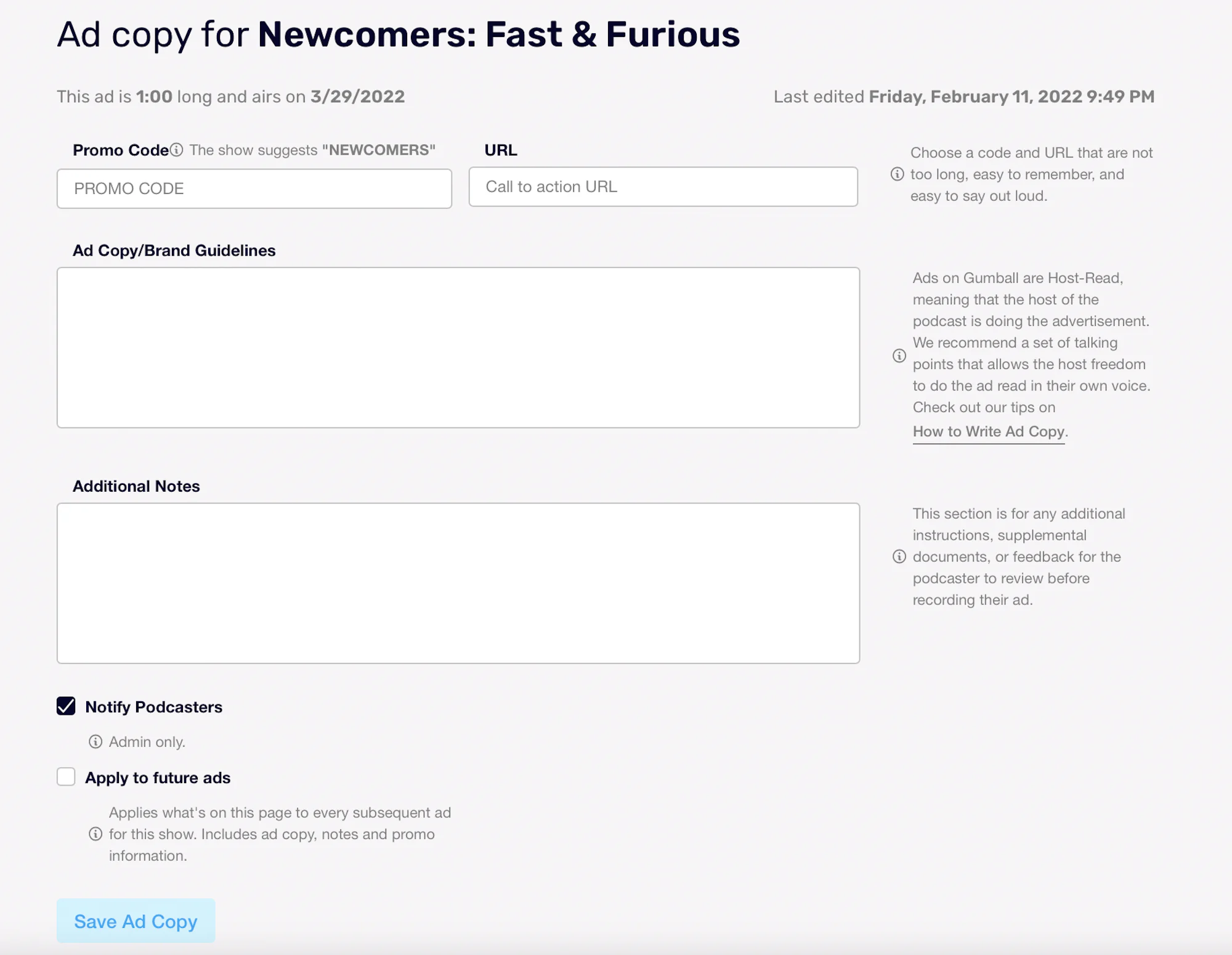 This is also where you can view the show's preferred Promo Code (i.e. The show suggests "NEWCOMERS" tool tip) to set up any codes or vanity URLs for your offer. Each show has a different preferred code, so please be sure to check their copy pages before setting these up.
Once the appropriate fields are completed, there are two options:
Hit the Save button, meaning only the 3/29/22 ad would be updated.
Check the Apply to future ads box and then hit save, meaning that the 3/29/22 AND all subsequent ad spots would be updated.
This feature is especially helpful if you need to edit copy somewhere in the middle of your campaign, but don't want to affect any prior dates.
Additional things to note:
Once an ad is 7 days out from its airdate, you will not be able to make changes to the copy in order to allow the show time to record. If any changes need to be made, please contact your campaign manager about rescheduling the spot to a later date.
If you don't get to upload the copy at all before this deadline, please contact your campaign manager. Do not just add the copy to a later spot in the campaign--the show will not know to record it for the earlier date.
To learn more about guidelines for writing copy, check out this article.
How-to Write Ad Copy
Last updated 3/30/2023
If you're new to podcast and YouTube advertising, we've compiled some recommendations based on ad copy that has driven the most success for our sponsors.
Unless otherwise noted, all ads on Gumball are Host-Read, meaning that the host of the show is doing the advertisement. Because of this, we recommend a set of talking points that allows the host freedom to do the ad read in their own voice. If you're writing talking points for a 60s ad, consider the following format:
Intro:
This is a one or two sentence intro about your product or brand. Explain what your product is and maybe how or why it came to be.
Talking points:
These are 4-5 bullet points that the hosts can touch upon in their read.
We recommend writing 4-5 but only requiring the hosts to read 1-3. This gives them some options for what they want to focus on and allows them to rotate through different talking points if they are doing multiple ads.
If any must be read, be sure to emphasize that clearly in your script--we often see people highlight mandatory copy points in red with a note at the top of the copy about this (ex. red text must be read verbatim)
Make these talking points as clear and concise as possible. This will allow for the hosts to put these talking points in their own voice and help the ad resonate with their audience.
Personal Experience:
If your ad read requires a personal endorsement, give instructions on what the hosts should talk about here. Question prompts are particularly helpful (i.e. "What did you think of the packaging?", "What product was your favorite?", "How did you use the product?", etc).
CTA:
This is your Call to Action where you direct listeners to an offer. This should include any vanity urls or promo codes created for the ads. Reminder that each show's preferred promo code can be found on their Edit Script page. We generally recommend emphasizing this has to be read verbatim, and require promo codes & urls to be read twice for clarity.
Here's an example:
INTRO:
(Optional: If you have any, feel free to start your read with a personal anecdote about the pains of buying wiper blades.)
Wipers123.com is focused on one thing and one thing only; selling premium wiper blades and providing premium service.
TALKING POINTS:
No matter what you're driving, Wipers123 has a wiper blade that's going to fit your vehicle! Their massive inventory covers 99% of all vehicles on the road right now.
Wipers123.com is the only place you can purchase the Typhoon SpeedSet wiper blades.

The Typhoon SpeedSet wiper blades are American made, all-weather, premium beam blades that feature Quick-Click technology.
Guarantee you'll have them installed in less than 30 seconds.
CALL TO ACTION (required):
You can see for yourself by going to Wipers123 dot com and using promo code IFIWEREYOU for $10 off orders of SpeedSets.
How To Listen to Airchecks
Last updated 4/3/2023
Once an ad has gone live, creators are required to upload an aircheck within 24 hours. Those will automatically populate in your campaign dashboard where you can listen!

After clicking Play, you can listen to the aircheck natively or download the .mp3 file by right-clicking on the player.

If you're reviewing an aircheck and have any questions or concerns, contact us. 
Love what you hear and want to buy more? Learn how to Extend Your Campaign.