podcasters
Getting Started with Gumball
Import Your Show
Last updated 3/16/2022
You've just been approved to join Gumball which means it's time to import your show(s) to the platform in three easy steps by clicking Add a Show.
1. Find Show
Get started by searching for your podcast's name, or entering the RSS feed or iTunes link in the search bar. This allows Gumball to populate some preliminary info into your profile (title, description, categories, etc). All of this info will be editable in your settings and you can find out more about how to Set Up Your Show below. 
Once you've found your show, check to confirm that you're authorized to sell ads on the show and will be able to verify with your onboarding contact that it gets more than 10,000 downloads per episode.
2. Setup Schedule
Next you'll need to set up your schedule. Gumball requires shows to be on a regular release schedule so that advertisers can purchase future episodes reliably. Using your RSS feed, Gumball automatically pre-fills this with our best guess of your release schedule, but please adjust to make it as accurate as possible. If yours doesn't quite meet these settings, please reach out to your onboarding contact. 
In this example, If I Were You releases one episode a week on Mondays.
3. Ad Placements
Finally, you'll need to configure your ad placements by choosing the types of ads you want to make available to advertisers. 
We've set a temporary placeholder by pre-populating a typical ad schedule of one, minute-long embedded pre-roll ad and two, minute-long embedded mid-roll ads. This means that for each episode of your show that airs, you can insert up to one embedded pre-roll and two embedded mid-rolls that are a minimum of one minute each.
To reconfigure to match your ad schedule, we recommend canceling the pre-configured ads and starting from a blank slate.
To add your own ad slots, click the drop-downs to find your preferred ad type--Embedded or Dynamic Pre-roll, Mid-roll, and Post-rolls. To learn more about these ad types, head to our Glossary!
Then, select your typical ad length: a minimum 15 second, 30 second, or minute long ad.
Once you've configured your first ad placement, click the + Add button to have it show up in the schedule.
Continue adding spots as needed until you've correctly configured a typical episode's ad availability. In the If I Were You example above, the show sells a max of one dynamically inserted, minute-long pre-roll and two dynamically inserted, minute-long mid-rolls per episode. Only add as many spots as you're willing to run in a single episode.
If you have any questions about this process, reach out to your onboarding contact for assistance, otherwise, if you're ready to confirm your show click Continue. You'll be sent to your show's Settings page to confirm the information is correct. Check out this article on how to Set Up Your Show.
Set Up Your Show
Last updated 3/16/2022

Congrats and thanks for joining Gumball! We're excited to help start selling your show. In order to make sure we can match you with great brands, you'll need to update your Settings page and make sure all your show's info is correct. These sections can be edited again at any time!
General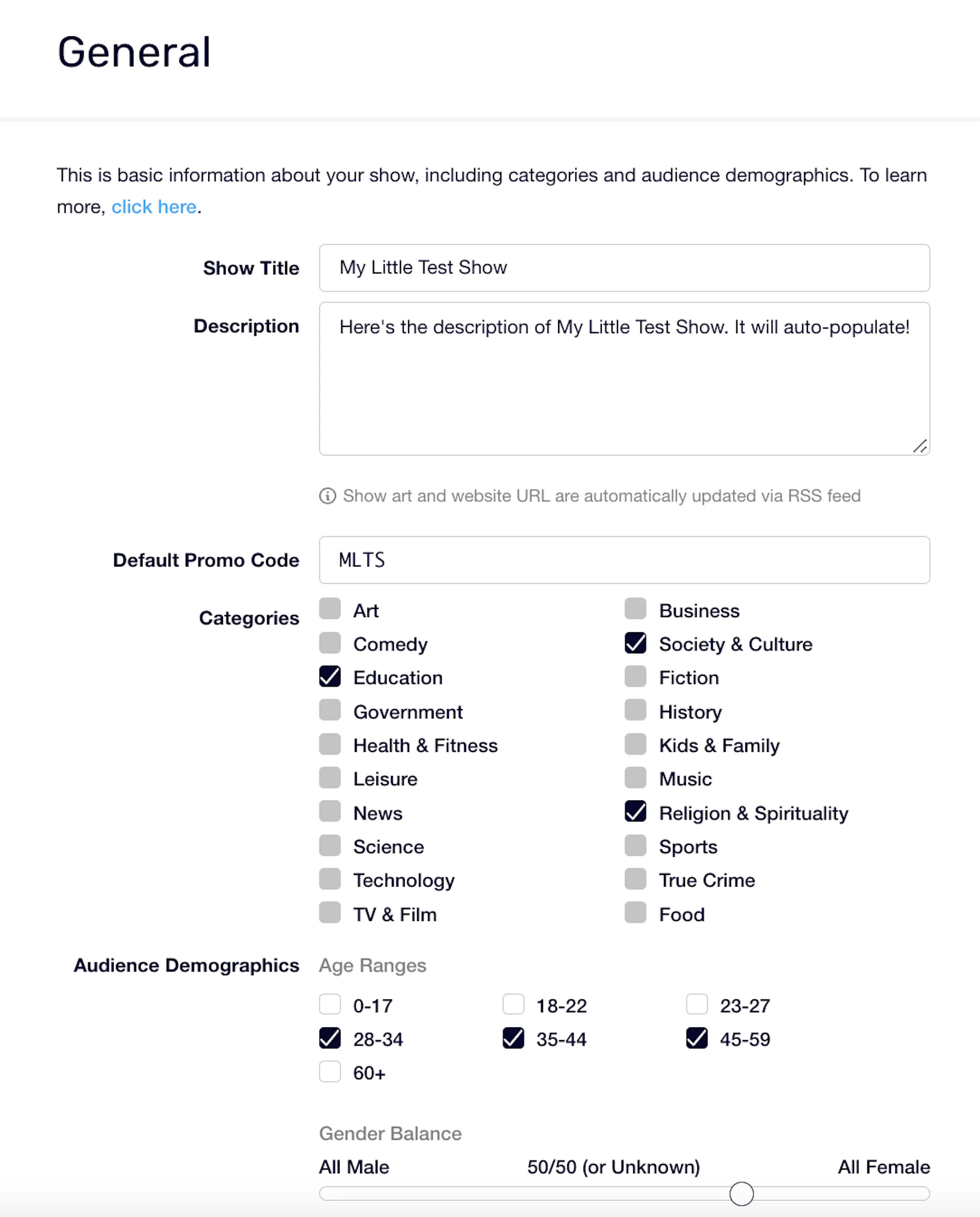 Show Title: This will auto-populate based on your RSS feed.
Description: This will auto-populate based on your RSS feed, but feel free to add any additional info that would be useful to advertisers browsing your show.
Default Promo Code: This will default as a hyphenated phrase (like MY-LITTLE-TEST-SHOW for the example above), but update this with the promo code that you'd like advertisers to use for your show. Some examples of show codes are MIGHTY for High & Mighty, IFIWEREYOU for If I Were You, and WHM for We Hate Movies.
Categories: This will auto-populate based on your RSS feed, but fill this out with up to 3 best-fitting categories to help advertisers find good matches for their product.
Audience Demographics

Age Ranges: Check up to four of these boxes based on what you know to be your audience's age demo. An easy place to pull this information from is Spotify's Podcaster Dashboard.
Gender Balance: Adjust this slider based on what you know to be your audience's gender balance. Note that the slider moves in increments of 10. An easy place to pull this information from is Spotify's Podcaster Dashboard.
If this is a brand new show, take your best guess! These can be easily adjusted as the show acquires an audience. 
Profile Page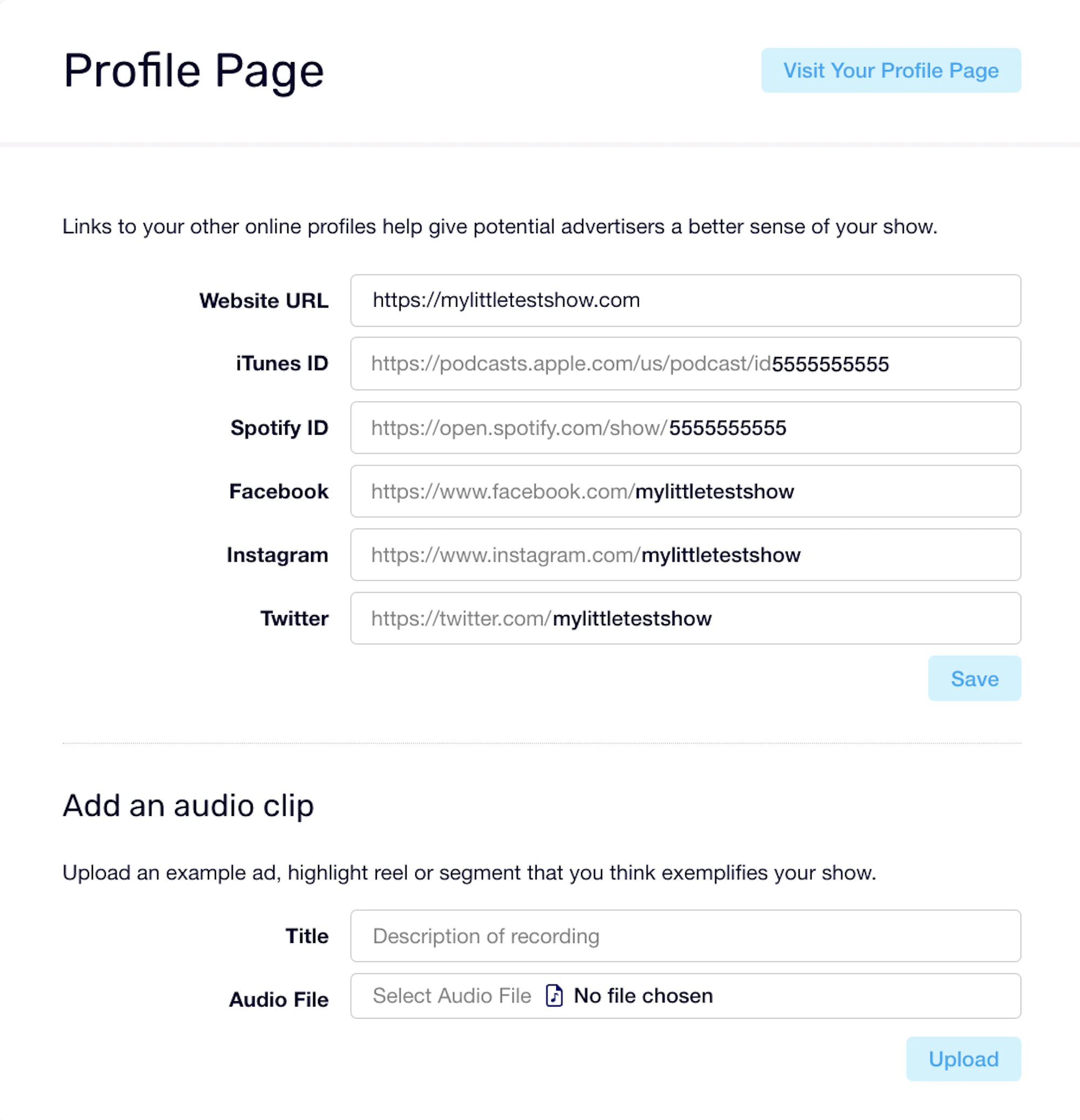 Website URL: This will auto-populate based on your RSS feed.
iTunes ID: Add your Apple Podcasts link.
Spotify ID: Add your Spotify link.
Facebook, Instagram & Twitter: Add your show's social media links, if applicable!
Ad an audio clip: Upload an example ad, highlight reel, or segment that you think exemplifies your show. 
Ad Types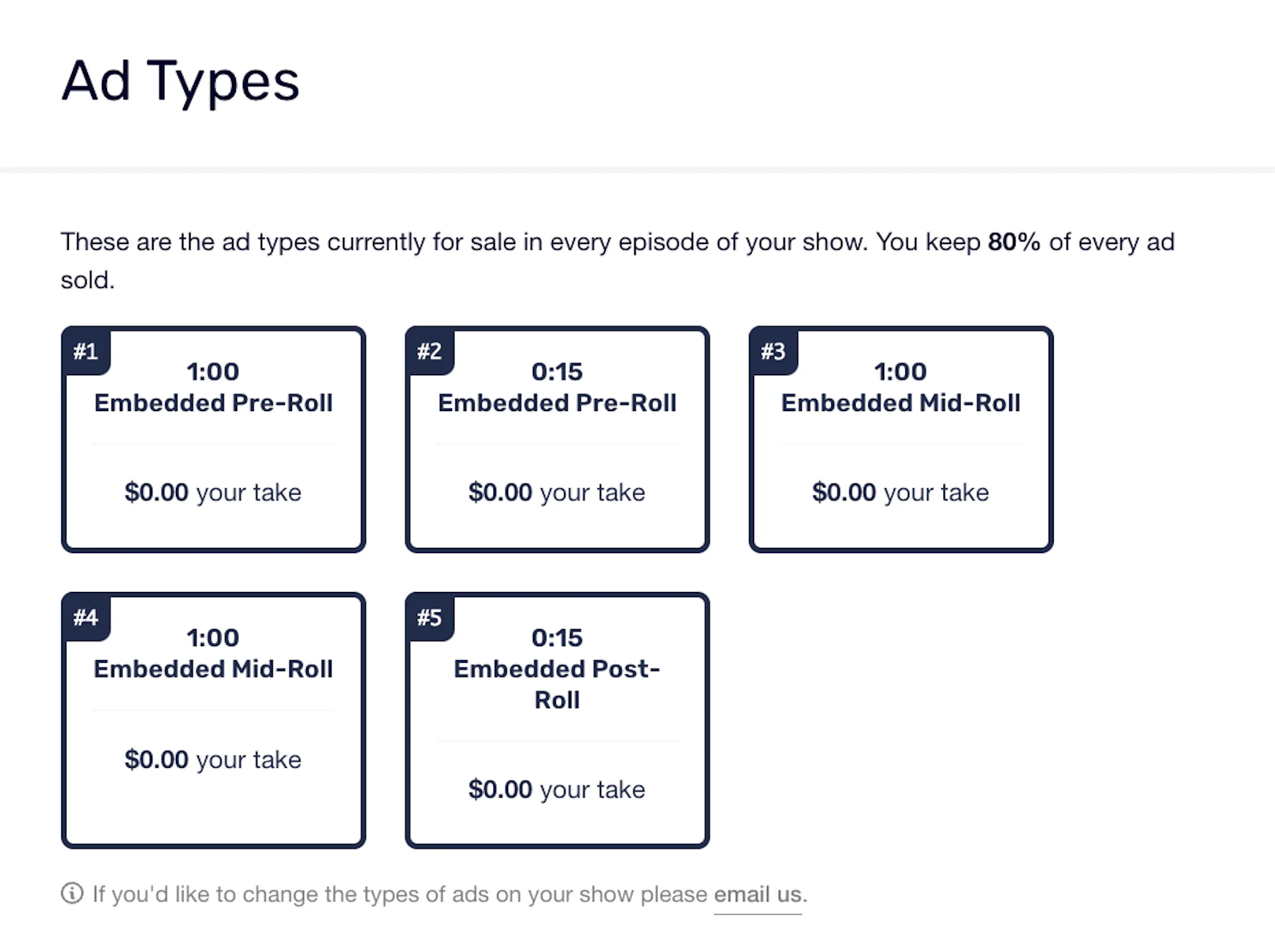 Based on your selections during the sign-up process, these are the ad placements currently for sale in every episode of your show. If you need to update any of the information here (ad type, your default cpm, impressions sold, etc.), please contact us. Keeping your impressions as up to date as possible is particularly important and will help ensure your ads perform well.
Episode Blackouts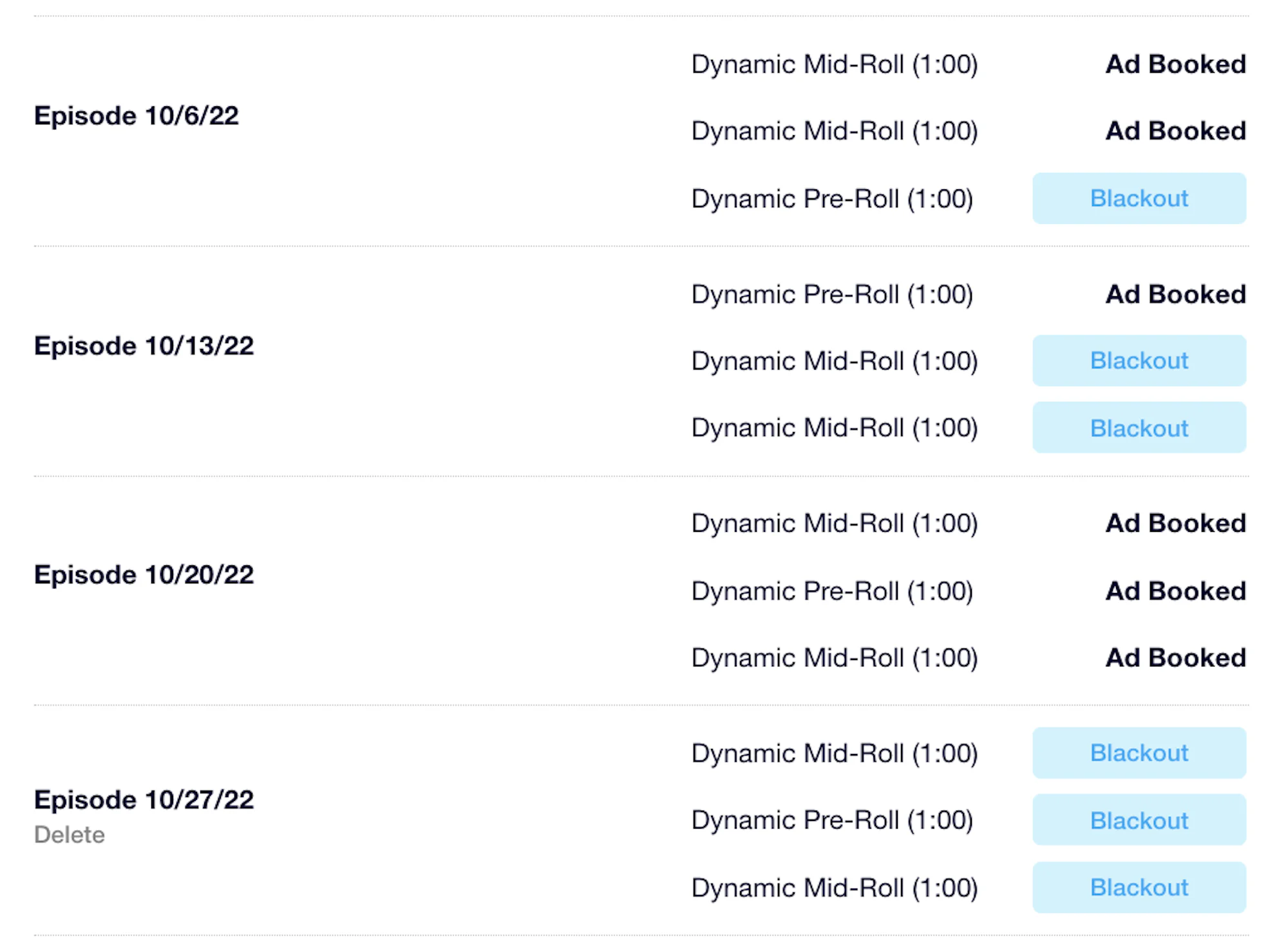 Delete Button - Deletes an entire episode from your show's schedule. This should be used if your show is going to be skipping a week completely.

Blackout Button - Use this feature to block out an ad slot on the associated drop date. This should be used if you have another advertiser scheduled outside of Gumball or are running an internal promotion that needs to take up one of your ad placements. To help us avoid booking advertisers that conflict with those you've booked outside of Gumball, please select a category from the dropdown that best matches the brand you're working with.

Please note, you will not be able to delete an episode if there are any ads that have already been booked on that drop date, and will not be able to blackout a specific placement if it's already been booked. If you need to skip a week or can't accommodate ads that have been booked, please reach out to our team to discuss rescheduling.
One-off Episodes: Planning an additional episode that you'd like to monetize? Use this feature to add a date to your schedule. This date will auto-populate with your default ad-placements. If you're adding a bonus episode or trailer that you don't need ads sold on to your feed, you do not need to use this feature.
If you need to edit ad slots or drastically modify your schedule, please contact us.
Campaign Exclusion
Campaigns can be blocked from buying new ads on your show. Use this when certain ads aren't right for your show, or if you have an exclusive deal with an advertiser in the category. Ads that are booked already won't be affected by this setting.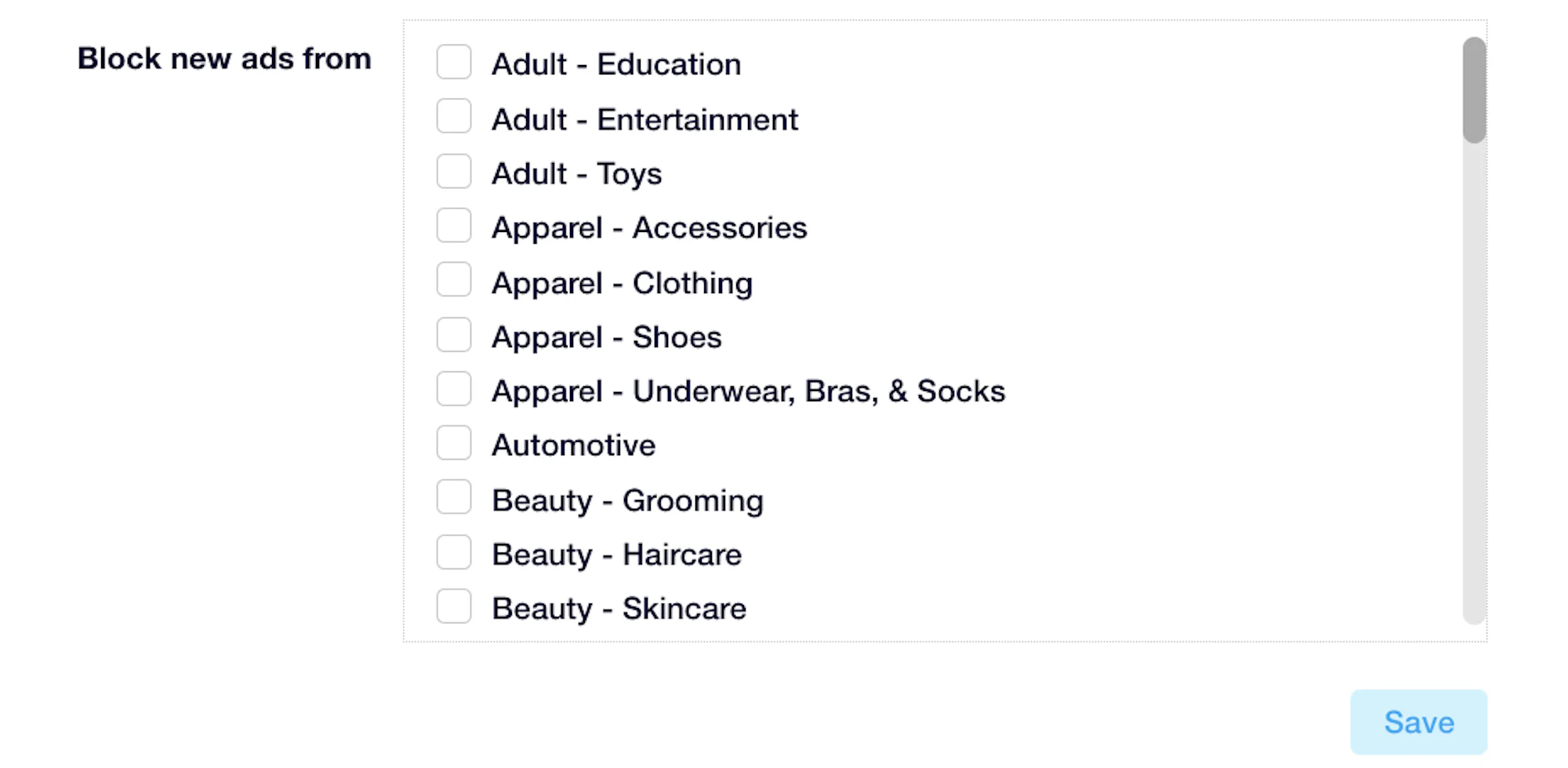 Payments

To get paid, you need to connect a bank account via Stripe by clicking the Connect to Stripe button. Stripe can only accommodate one payee, so whoever clicks the stripe integration will be in charge of the account. You will need to choose a point person OR set up a legal entity for all members.
Your First Ad
Last updated 3/28/2022
Congrats on booking your first ad with Gumball! Here's a checklist of steps to ensure a smooth start. 
Record your ad.

Go to your Gumball Dashboard and click "Read Script" to find copy for the spot. 
Check out this article for best practices on How to Read Ad Copy. 
Does your Dashboard say "Waiting on script from advertiser"? Copy should be available at least 7 days ahead of your scheduled spot as advertisers cannot make updates less than a week out from the airdate. If copy is missing and your spot airs in less than 7 days, please reach out to help@gumball.fm. 
Extra tips: 

If more than one ad for the same brand is on your schedule, each spot is expected to be a unique read even if the script is exactly the same. 
Some advertisers do like to update copy between spots, so we recommend recording each ad as close to the air date as your schedule allows. 

Do you have any conflicts with this ad?

If you need to reschedule or decline this spot (or any others booked in the future) for any reason, you'll be able to do so within the 48 hour window after the ad is booked by clicking "Click here" next to the spot. Please note, the option to reschedule/decline will disappear after that 48 hour window expires. 
Once you've clicked into the reschedule/decline option, you'll be able to provide more insight as to why you need to reschedule/decline. Please provide us with a reason from the dropdown so we can help you reschedule or avoid scheduling ads that don't work for you in the future.
Schedule the ad in your hosting platform. 

Check your Dashboard for details about the scheduled spot. You'll need this information as you set up the ad in your show's hosting platform.
Is the ad scheduled as a Dynamic or Embedded spot?

Dynamic - inserted into the newest episode on the drop date a spot is scheduled for along with the entire back catalog until fulfilled
Embedded - baked into the episode's content, lives there for at least 30 days or indefinitely

Is it a Pre-Roll, Mid-Roll or Post-Roll? 

Pre-Roll - should play in the first 10% of the episode
Mid-Roll - should play in the middle 40-60% of the episode
Post-Roll - should play in the last 10% of episode

How many listeners should the ad reach? 

Dynamically inserted ads should run until the number of listens noted next to your ad is met.
Embedded ads' listener counts are based on the amount of listens the specific episode receives.

Is your show simulcast on YouTube? If so, make sure this spot goes live in the corresponding YouTube episode as well.
Do any details outlined for the spot look incorrect based on the way your show serves ads? Reach out to our team at help@gumball.fm immediately.

Upload your aircheck.

Has your ad gone live as scheduled in Gumball? Head to your Dashboard and click "Upload Ad" to upload an aircheck.
What's an aircheck? An aircheck is a clip of your ad read used to verify that the spot has been recorded and is being served in the correct episode via your show's hosting platform. Once uploaded, these clips are available for the advertiser to listen to and provide feedback on when necessary.