podcasters
Gumball How-To Guides
How to Read Ad Copy
Last updated 3/16/2022
Ad Copy/Talking Points are the notes advertisers upload to guide podcasters in recording an ad. They can either be formatted as a script to be read verbatim, or as bulleted talking points which give a loose guide on what hosts should touch on in their read.
When you're notified that an advertiser has uploaded copy, check it out! Your first time reading over the copy should not be when you're sitting down to record your ad. Look it over and make sure you understand the requirements and don't have any additional questions. If you do, contact us!
Things you should keep an eye out for in ad copy include:
Mandatory Talking Points: These are often highlighted, bold, or red. Check all the notes in your copy to see how they indicate these required lines. It can change advertiser to advertiser. It might just be mandatory that they're mentioned, but sometimes they may need to be read verbatim. This is often the case for any disclaimers or CTAs (see below).
Personal Experience Requirements: Host-read ads often require a personal endorsement. Make sure you understand the requirements of this section of your read before you start. Almost all brands that require this will send over samples/accounts/etc. to try out their product. If you haven't received yours or feel unable to make this endorsement, contact us! 
Call To Action or "CTA": This is the section with your special offer! It's often meant to be read verbatim, so make sure you know what your promo code or vanity url is before starting your read. You can find these in the boxes at the top of your script page and sometimes within the copy itself. This is the number one place people make mistakes that are often cause for a Makegood, and in turn it's the easiest mistake to avoid if you're prepared ahead of time. When recording, it's also good practice to read the offer twice through, spelling out any urls or codes that could be confusing to your listeners.
Additional notes: Sometimes the script page or your copy document may include additional notes. These vary widely and can include supplemental documents with more info about the products, words/phrases to avoid in your read, notes about the tone of the read, and more. Make sure to review all of these notes before you record.
Recording an Ad 101
Last updated 3/16/2022
Here are some general tips our podcasters & producers have found helpful to remember while recording their ads:
Make sure you're following the guidelines for the length of an ad. If Gumball says the ad should be 1:00 minute, make sure it isn't under as this can be cause for a makegood. If it goes over, that's totally fine, but in general we recommend ad reads stay under 3 minutes long.
Have fun! Your tone really helps sell the ad to your listeners & the brand. Advertisers listen to every read, so make sure to avoid disparaging, sarcastic, or uninterested tones to steer clear of negative feedback or potential makegoods.
Remind your listeners that this is how they can show support for the show. Sometimes a line like this is included in the CTA of the copy, but telling listeners that using your promo code or vanity URL helps support the show can help push conversions and make brands renew with your show. That means more $$$!
Personal Experience: Most will spots require you discuss your personal experience with the product. This is your opportunity to share your direct experiences using the product or services.

Haven't received your product in time? Sometimes a company can be slow to deliver a product in time to test prior to recording an ad. In these cases, let us know! We can check in with the advertiser and determine a best course of action. One frequent solution is to talk about parts of the process you have experienced (ordering online and the website experience) or what you ordered/are excited to receive.
Any issues with the product? Sometimes sharing your personal experience can be tough. In these cases we encourage you to talk about other aspects of the product you may have enjoyed—for example maybe it came in cute packaging, or you found its shipping straight to your door very convenient. Here are some examples of positive aspects you can mention:

"I found [the app] very easy to use"
"I love that it shipped directly to my door"
"Their online quiz was very personalized"
"I loved how [the product] smelled"
"I like that [the product] shipped in recyclable packaging"
"[This product] made a great gift for a friend/family member"

Make sure you're following the guidelines for where the ad is placed in your episode. If Gumball says the ad is a pre-roll, make sure it falls within the first 5-10 minutes of your episode. If the ad is a mid-roll it should fall around the halfway point or between 40%-70% of your episode. If your ad is a post-roll, it should come within the last 5-10 minutes. Misplacement of ads is often cause for a makegood.
Record a unique spot for each ad. Unless otherwise notified, you are required to record a new ad read for each spot on your calendar, even if copy is identical across multiple ads. When recording multiple ads with the same copy, use this opportunity to rotate in talking points you didn't use previously, or give an update on your personal experience.
(Recommended) Don't have music playing in the background of your ad reads. We've gotten feedback from advertisers in the past who don't like it when shows add a music backing track to the ad read. It makes the ad feel less integrated with the show and makes it easier for listeners to skip ahead past it. This is not a hard rule, but a best practice to follow.
How to Upload an Aircheck
Last updated 3/16/2022
What's an aircheck? An aircheck is a clip of your ad read used to verify that the spot has been recorded and gone live in your episode as scheduled. Once uploaded, these clips are available for the advertiser to listen to and provide feedback on when necessary.
How do I produce an aircheck?Use your preferred editing software to pull this clip from your episode. We recommended cutting the ad out with 10-20 seconds of episode content before and after the ad read, in order to give the advertiser some context as to where it falls in the episode. Do not upload full episodes.

Upload Ad: Use this button on your Dashboard to upload an aircheck as proof that your ad has gone live. Any audio file type can be uploaded and will be converted to .mp3. We ask that these airchecks are uploaded at the latest within 24 hours after the ad goes live, or the ad risks late payment or cancellation. Ads are not invoiced until airchecks have been uploaded.
Note that an aircheck only serves as proof that you've recorded & placed your ad in your episodes as contracted. Gumball is not a hosting platform and therefore does not do any ad insertion.
Now what?Now the advertiser has an opportunity to listen to your read and confirm that it met all the requirements. In cases where it does not, an advertiser may ask for a "makegood". Check out the FAQ to learn more about makegoods & how to avoid them.
How to Track Payment Status
Last updated 3/16/2022
Payments
The payments page is where you can track payments for each of your ads and get clarity as to which ads Gumball is waiting to collect on.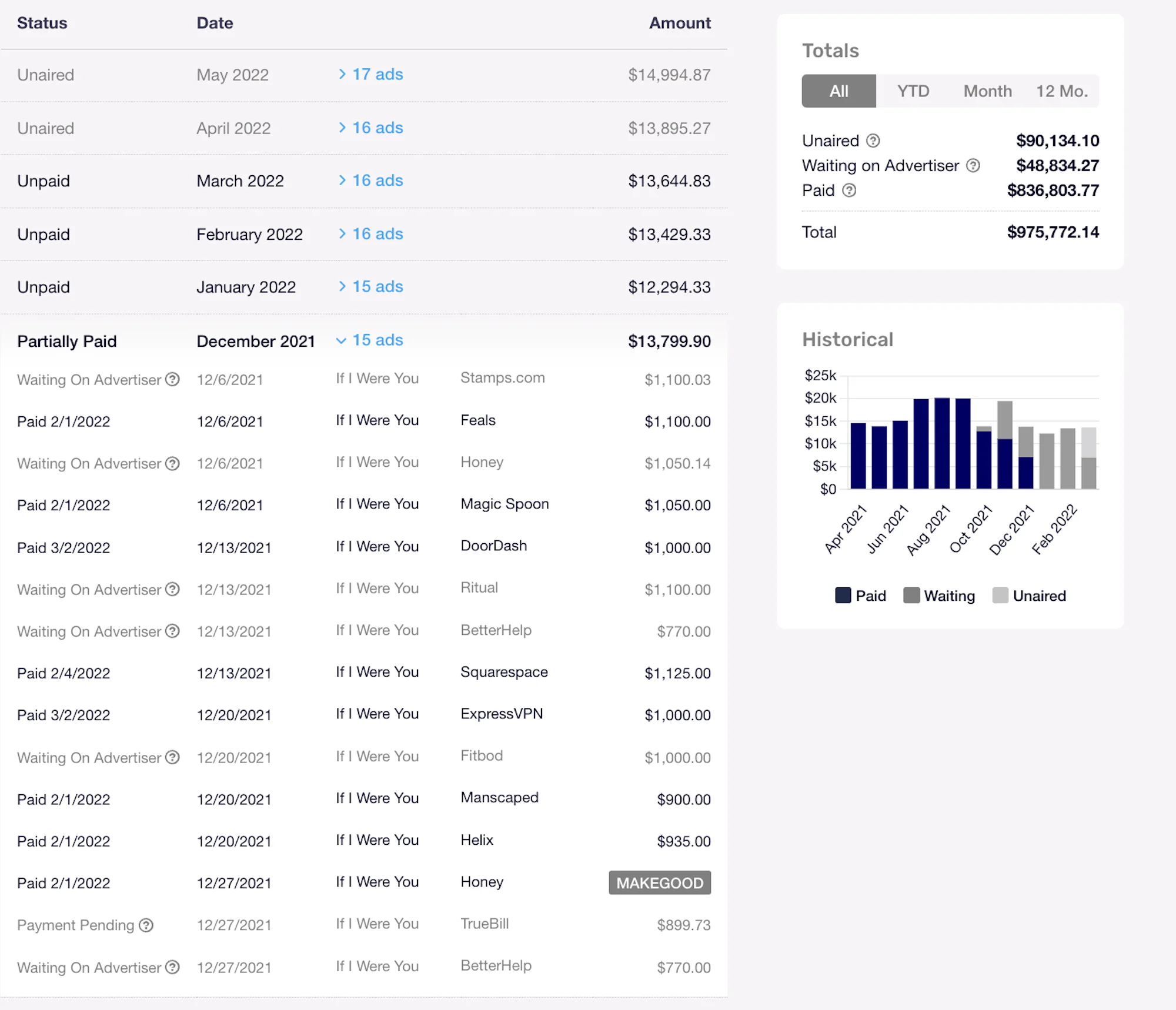 Unaired: Booked ads that haven't aired yet.
Waiting On Advertiser: We are waiting on the advertiser to deliver payment.
Paid/ Paid Out [Date]: Ads that have been paid out to you, with payment date specification.